Signal Processing Unit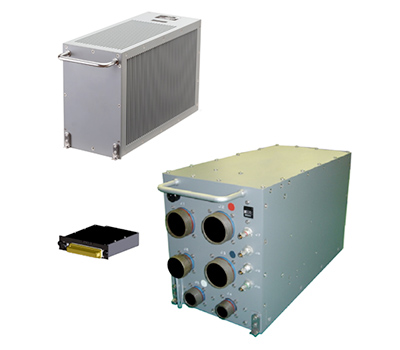 Signal processor to interface the aircraft system bus and connected equipments through customer software under a real-time (RT) OS. The recorder and removable memory can be connected externally to the processor unit. The system has a wide variety of interfaces and is flexibly compatible with different applications.
Features
Compatible to various interfaces
High reliability with redundant system
Customizable for enclosure shape, various input/output signals, connector, redundant configuration, and recording capacity
Transfer data from the processor to external memory via Ethernet
Standard Configuration
Digital Interface
1553B/ARINC429/Ethernet, etc
Analog Signal Input
AC/DC/Frequency/Synchronize/Vibration sensor/Phase sensor, etc
Discrete Signal Input
28VDC/OPEN/GND, etc
Alarm announcement - inside/outside aircraft
Electronic speech circuit (Externally Programmable)
Audio Output
OS
RTOS (VxWorks) loaded or BSP can be supplied.
Customer Operation Software can be supported
High reliability design
Redundancy System can be configured by Mutual monitoring of multiple signal processing unit
Removable memory unit capacity
64GB
Power input
+28VDC(MIL-STD-704)
Power consumption
75W or less
Environmental Conditions
MIL-HDBK-5400 Class 1B
Dimensions, Mass
Processor: 120(W)×300(D)×195(H)mm、7.5kg or less
Recorder: 150(W)×150(D)×30(H)mm, 0.6kg or less
Detachable memory : 100(W)×150(D)×20(H)mm, 0.4kg or less
EMI
MIL-STD-461
*Please contact us for the detailed specification.