Flight Mode Control Unit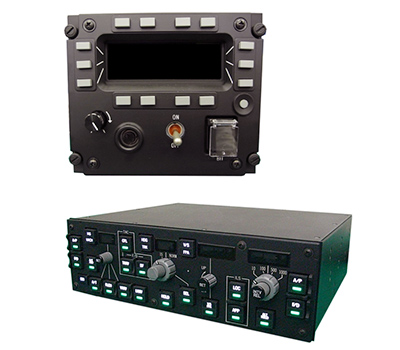 Installed in the cockpit, this system interfaces with flight control computer (FLCC) and displays various flight control information. Layout of switches and design of displays are customizable upon request.
Features
LED display capable of displaying 5 lines x 24 characters
Edge light panel and illuminated switch compatible to NVIS
Customizable for display type (LED, LCD), enclosure shape, panel layout, signal interfaces, connector and redundancy configurations
Standard Configuration((1) Edge light panel type, (2)LED display type)
Information display
(1) LED Dot-Matrix
(2) LED Display (or LCD Display)
Surface panel
Edge Light Panel
Switch
(1) Illuminated Switches (can be NVIS compatible)
(2) Panel-Integrated Line / Function Keys
Interface
(1) ARINC-429
(2) MIL-STD-1553B
High reliability design
(1) Double Redundant Internal Circuits
Usage environment
MIL-HDBK-5400 Class 1
Dimensions, Mass
(1) 300(W)*250(D)*95(H)mm, 5.0kg or Less
(2) 150(W)*140(D)*130(H)mm, 2.1kg or Less
Input power supply
+28VDC(MIL-STD-704)
Power consumption
(1) 110W or less(2 systems total), 20W or Less (Edge Light Panel)
(2) 20W or Less
EMI
MIL-STD-461
*Please contact us for the detailed specification.