Multi Data Recorder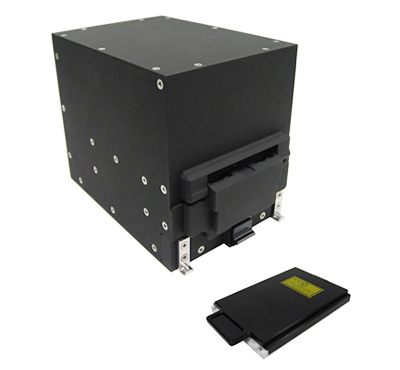 Multi-data-recorder is a high reliability recording system that records various data including bus data and images of aircrafts, ground vehicles, and ships to memory cartridge converting to digital data.
Features
Utilization for operational education and training
Utilization for disaster relief and peacekeeping missions
Utilization for accident investigation of aircraft, vehicles, and ships
Utilization for maintenance
Standard Configuration
Recordable data
Analog Data: Image, audio, voltage/current value, etc.
Digital Data: Contact relay signal, Hi/Lo signal, etc.
Data-bus: MIL-STD-1553B,CAN-bus, etc.
Output Interface
Digital Data, Data-bus, Analog Data
Recording capacity
Standard: 60GB (Max: 200GB)
Power Input
+28VDC(MIL-STD-704)
Power consumption
57W or less
Environmental Conditions
Operating temperature -40°C~71°C
Non-operating temperature -54°C~95°C
Dimensions, Mass
video recorder: 122mm(W)×171mm(D)×148mm(H), 3.0kg
memory cartridge: 116mm(W)×89mm(D)×14mm(H), 0.3kg
EMI
MIL-STD-461
*Customizable for enclosure shape, various input/output signals, and connector upon customer request. Please contact us for the detailed specification.