Telemeter Receiver / Analyzer system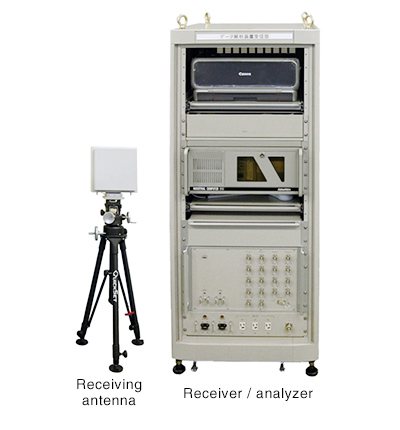 The telemeter receiver and analyzer system to analyze the data transmitted from the telemeter after decoding the original data or image data.
KAI develops and supplies the receiver/analyzer meeting the requirements by designing the system coincide with a target telemeter.
Features
Utilization for track path data analysis in aircraft and vehicles
Utilization in a portable remote measurement system by accommodating compact sizing
Utilization for remote measurement/remote monitoring of the crustal deformation
Standard Configuration(Receiver/analyzer)
Receiving Frequency
2,200MHz to 2,400MHz
Min Receiving Sensitivity
-90dBm
Max Receiving Input Level
+20dBm
Noise Figure
5dB or Less
Analysis / Processing Function

Decoding and Converting PCM Signal
Decoding and Displaying Video Data
Imposing Trajectory Data and Map Data
Recording and Exporting Received Data
Standard Configuration(Receiving antenna)
| | |
| --- | --- |
| Receiving Frequency | 2,100MHz to 2,500MHz |
| Polarization | Vertical/Horizontal/Circular Polarization |
| Antenna Gain | 15dBi or More |
| LNA Noise Figure | 0.4 dB or Less |
| LNA Gain | 45dB or More |
*Customizable for enclosure shape, various input / output signals, and connector according to customer requirements.