Micro Telemeter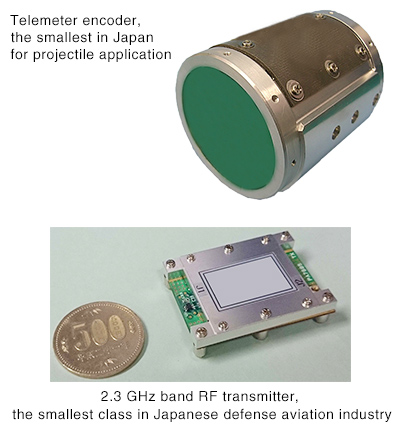 The telemeter system to record and analyze data acquired by sensors and analyzers by transmitting them to the base station via a wired or wirelessly. KAI produces a super compact telemeter by employing a rigid-FPC and a high integration density compact device. KAI develops and supplies encoders and receiving systems for different telemeter systems with the keyword of accommodation to the various environmental requirements with compact, high quality design.
Features
Utilization for remote measurement in prototype aircraft, vehicles, and vessels
Utilization for remote measurement in handheld monitoring system
Utilization for fatigue measurement of structural fatigue
Utilization for remote measurement of the crustal deformation
Standard Configuration
Measurement (Transmit) Signals
Analog Data:Video, Audio, Voltage/Current etc.
Digital Data:Discrete, Hi/Lo Signal etc.
Bus Data:RS-422,HDLC etc.
Transmission/Modulation
S-band /FM etc.
Transmission Rate
1.0Mbps~3.0Mbps
Transmission Power
0.5W
Power Input
+5Vdc etc.
Power Consumption
10W or Less
Environmental Conditions
Operating Temperature -30°C to +50°C
Dimensions, Mass(Approx)
45mm(W)*45mm(D)*45mm(H), 0.3kg or Less
*Customizable for enclosure shape, transmitting power, various input/output signals, and connector according to customer requirements.